Starting price

₹ 33 49 900*
Engine

2.0L TSI

Transmission

7-Speed DSG 4MOTION

Displacement (cc)

1984 cc (4 cylinders)

Max. Power [PS (kW) @rpm]

190 (140) @ 4200 - 6000

Max. Torque [NM @rpm]

320 @ 1500-4100
1.

As per internal test data
Outstanding outside, innovative inside. The new Tiguan shows what it means to keep reinventing yourself. 
Intelligent technology gives it exceptional abilities. As a dynamic SUVW, with the latest tech and brand-new look, it's full of reasons to get excited. 
Skip boring with the exciting new Tiguan.
Now get a LIVE demo for any Volkswagen from the comfort of your home. Connect and interact with a sales consultant via an AV interface and get all your queries resolved.
Available at select dealerships only.
Skip Conventional.
Technologically Advanced.

The generous interior of the new Tiguan is a space for forward-thinkers. With the intuitive controls of the driver-oriented cockpit you can now concentrate completely on the essentials. 
The premium spacious cabin with its Vienna leather seats stylish decorative inserts along with the soft-touch dashboard and door trim make every journey an experience. The LED interior lighting in the front and rear and the ambient lighting creates a cosy atmosphere of the highest quality and the electric panoramic sunroof gives your passengers an unforgettable view. 
The new Tiguan's, driver electric seat adjustment, illuminated gear knob, illuminated scuff plates & USB C-ports are nifty little additions that go a long way. The Volkswagen signature flat bottom multifunction steering wheel ensures control is at your fingertips at all times. While the intuitive Cruise control enables a stress-free and comfortable highway cruising experience.
When driving, do you want to just keep your eye on the road and engine speed displays?
Or do you want more driving data? Maybe you want the name of the song you're listening to? Or a selection of the above?  
The choice is literally in your hands. Using the multifunction steering wheel, you can simply configure the digital cockpit. Just the way you like it.
My

Volkswagen

Connect Plus
Connect to your Tiguan, from anywhere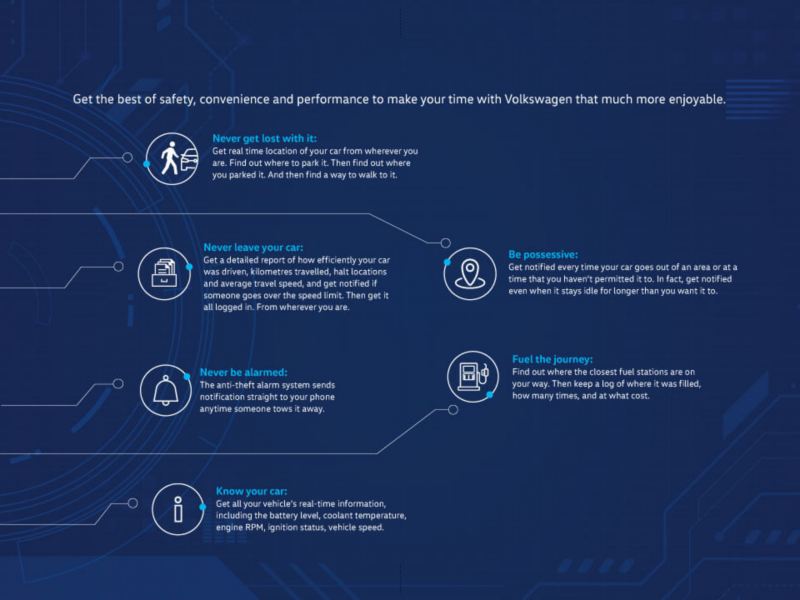 Introducing the new Volkswagen Connect Plus, an app that serves as a one-stop solution for you to stay connected with your Volkswagen, remotely and at any given time. This application provides you with access to check the safety and security of your Volkswagen along with the GEO-location feature to track your car.
Here's a list of mobile devices (phones, tablets, players) compatible with the inbuilt Volkswagen Infotainment System in the Taigun (bluetooth handsfree, bluetooth audio streaming, etc)
Skip Compromise.
Powerful Performance.

Stepping behind the wheel of the new Tiguan is a powerful feeling, in more ways than one. Being meticulously engineered, it's where power and efficiency work in tandem.
Volkswagen's revolutionary 2.0L TSI engine brings to the table the raw power of 190 PS and 320 NM torque. Equal parts exciting and economical, it sets itself apart from conventional petrol engines by delivering spectacular power and torque with lower fuel consumption.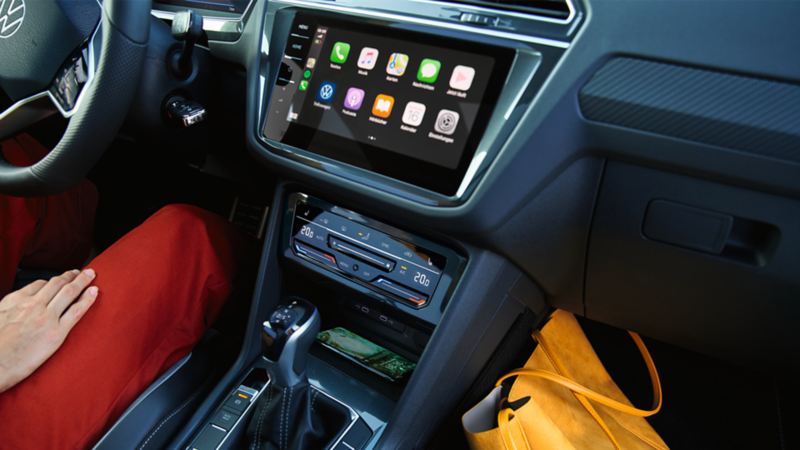 The Tiguan's 7-Speed DSG predicts your next gear shift before you actually make it. This allows for smoother shifts and quicker gear changes which translate to higher on-road performance and comfortable drives.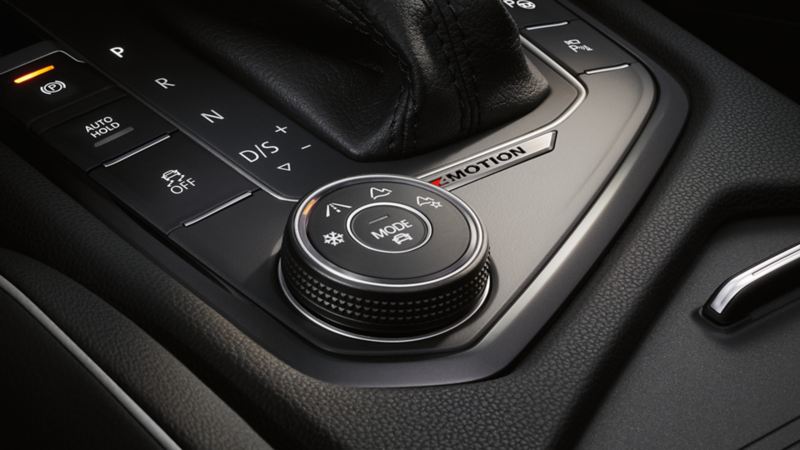 4MOTION with Drive Mode Selector
Our advanced 4MOTION technology keeps the new Tiguan gripped firmly to the road. As conditions change, it distributes power between the front and rear wheels to help optimize traction and stability.
Experts review the revolutionary TSI engine
The New Volkswagen Tiguan comes powered with a 2.0L revolutionary TSI Engine  
Our TSI engine is a high-functioning combination of energetic and economical - two characteristics that do not generally work together in conventional petrol engines.  
An amalgamation of Stratified Direct Fuel Injection (FSI), optimization and turbocharging help in delivering power and torque packed high-tech units with low consumption.
Ordinary. The last word you'd think of when looking at the new Tiguan. 
It's not often an SUV comes along that changes the way people think about cars. The latest Tiguan is that vehicle, a stunning addition to Volkswagen's SUVW portfolio that sets new benchmarks in terms of style, refinement and pure driver appeal.

From the powerful proportions to the dynamic front with its precise lines to the pronounced shoulders, the expressive silhouette is a definite head-turner.
At the front, Volkswagen's newest SUVW's striking bonnet with the new wider radiator grille envelops the new Volkswagen badge. 
At the rear, the Tiguan lettering is now in a prominent central position. The new front and rear bumpers, striking R18 'Frankfurt' Alloy wheels lend the new Tiguan a significantly more confident and assured look.
Skip Complicated.
Convenience.

Fitted with state-of-the-art technology, the new Tiguan swaps complexity for convenience.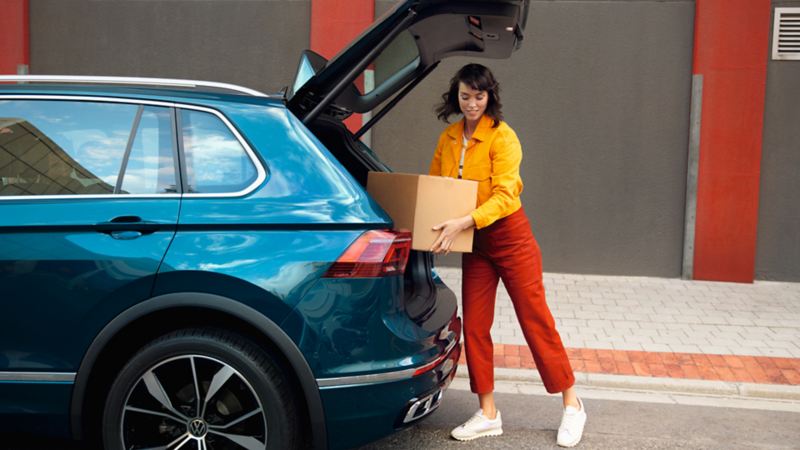 The new Tiguan's Easy Open and Close Boot function let you open its spacious 615L trunk hands-free. Just move your foot below the rear, it recognises the car key in your pocket and pops open the trunk.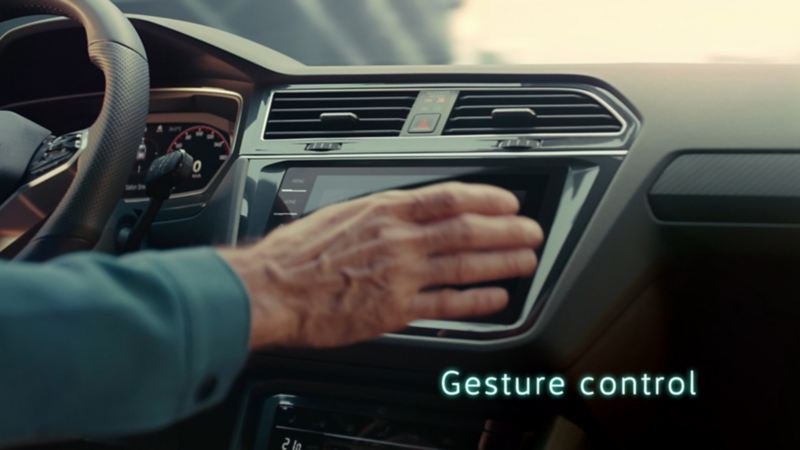 Small gestures go a long way in the new Tiguan. Navigating the main menu, changing radio stations, scrolling through playlists and accessing music albums, all of it is possible with a flick of a wrist.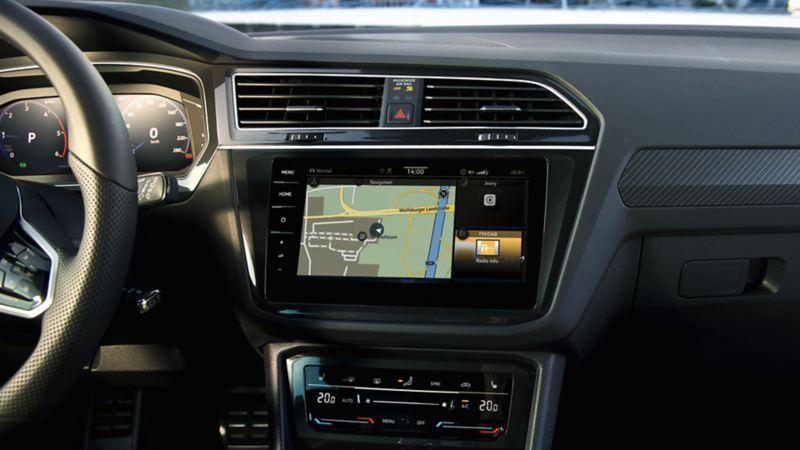 Touch and Slide AC Control
The new Tiguan gives you precision control over your air conditioning with a sleek new touch panel.
Only one quick swipe will help you adjust the 3-zone smart climate control, so you can find the perfect temperature without ever taking your eyes off the road.
Safety has a new standard with Volkswagen Tiguan. 6 airbags adjust to crash impact and severity, to protect you and everyone inside. Its dependable Electronic Stability Control Programme dramatically improves stability and reduces any loss of traction, while the responsive Electronic Differential Lock and Anti-lock Braking System prevent any unexpected skids. Navigating elevated terrains is easier than ever with its reliable Hill Descent Control. Front and rear disc brakes make for secure and worry-free drives.
Rest assured, the new Tiguan's intelligent safety systems let you take on the road with confidence.
Read what experts have to say about
the exciting new Tiguan.

What you're getting is a premium SUV that does just about everything near-perfectly. It's luxurious, well made, well equipped, comfortable, refined, spacious and even pretty decent to drive. In fact, it still delivers on that promise VW made – it is pretty much everything you want from a luxury SUV, at a (slightly)lower price.
Hear some of our customers share their delightful experiences.